The Artist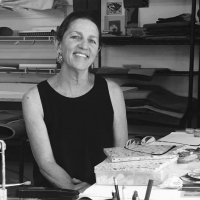 Joan Weissman embarked on her artistic career with studio porcelain, later developed an international business in custom rugs and textile design, and continues to create architectural projects in terrazzo. Characterized by a blend of modern design and traditional craftsmanship, all her work showcases a commitment to applied and functional art.
Weissman sees her work as a collaborative process. Close relationships with textile artisans in Nepal, Pakistan, Latin America and the USA ensured the successful interpretation of each delicate arabesque or subtle texture in her carpets. She supports GoodWeave and other local social justice initiatives.
Terrazzo also requires a high level of collaboration from conception through installation. The artist works with architects, community members, and public arts boards to develop site-specific proposals, accommodating for techniques of regional contractors and requirements of construction.
Joan Weissman makes her home in New Mexico.

Selected Public Projects
Terrazzo:
Center for the Arts at the University of New Mexico. Albuquerque, NM
Countryside Library. Clearwater, FL
Greenville-Spartanburg International Airport. Greer, SC
US Cellular Center (Civic Center). Asheville, NC
Textiles and Custom Rugs:
Bellevue Club Hotel. Bellevue, WA
Cirque du Soleil. Private jet

City Financial Tower. Honolulu, HI

City of Albuquerque and State of New Mexico Public Art Collections
Elliott Grand Hyatt Hotel. Seattle, WA
Governor's Mansion. Santa Fe, NM
Group Health (patient facility). Seattle, WA
Hotel Andaluz and Parq Central Hotels. Albuquerque, NM
MGM Grand Tower Hotel. Las Vegas, NV
Neiman Marcus. Beverly Hills, Honolulu, Seattle.
One Embarcadero South. San Francisco, CA
Tenet Health Care Headquarters. Dallas, TX
The Chubb Group Headquarters. Los Angeles, CA
US Federal Courthouse. Albuquerque, NM
Terrazzo Partners
Corradini Corp., Los Angeles, CA

David Allen Company, Raleigh, NC

Steward Mellon, Tampa, FL

Asheville Tile, Asheville, NC

Gallery Painting, Albuquerque, NM

National Terrazzo and Mosaic Association