WHAT IS IT?
Contemporary terrazzo is a decorative flooring material, incorporating chips of marble, granite, glass, shell, and quartz, held together by colored cement or epoxy. Each section of the pattern is outlined and separated, like cloisonné, by narrow strips of metal, and filled by hand with the wet pebbled mixture. Once dry, the floor is ground smooth and highly polished.
WHY USE IT?
For its high visual impact, unlimited design potential, environmentally friendly ingredients, low maintenance, extreme longevity, and cost-effectiveness, terrazzo is an ideal material for artistic expression in architectural settings.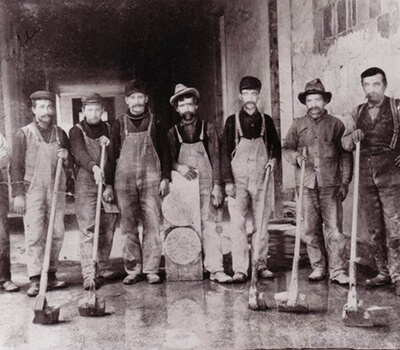 Although mosaic and similar floors are found in archaeological sites from 8,000 – 10,000 years ago, terrazzo, as we know it today, originated in Venice, Italy around 1500. Construction workers discovered they could gather leftover marble chips from their jobsites and set them in clay to create decorative patios in their own homes. They painstakingly ground the surfaces smooth with stones, and polished the floors to a sheen with goat's milk. Today's techniques and ingredients have come a long way from clay and goat's milk, but they share the characteristics of natural materials, decorative patterning, and utmost durability.
Terrazzo arrived in the US with immigrant Italian workers in the late 1700's. Over the decades, technical advances made it possible to create wider varieties of color and pattern. Terrazzo became a popular flooring choice, taking advantage of the plentiful selection of marble in American quarries.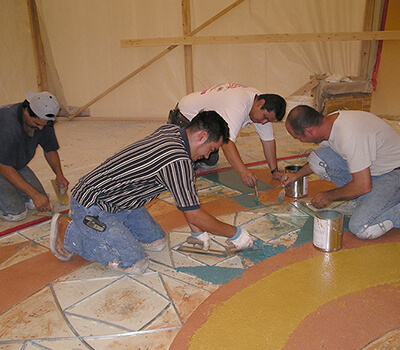 Perhaps the most significant development that promoted the spread of terrazzo in modern times was the switch from hand to electric grinding equipment around 1920. It is for this reason that so much terrazzo is identified with the Art Deco movement, showing up in theater entrances, bank lobbies, and commercial buildings. And even more recently, replacing the cement binding with an epoxy material allows for infinite background colors and ease of installation. Terrazzo, with its heyday in the 1930's is enjoying a well-deserved renaissance in contemporary architecture and public spaces such as airports, hospitals, civic centers and libraries.
TERRAZZO INSTALLATION VIDEO
Video Note: The run time for this video is 2 minutes.